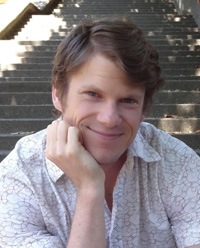 Chris Woods is one of our noted alumni who started at VanArts in its very early days, and has since enjoyed a long successful career in the animation industry. Most recently this year, Chris has celebrated 5 years at Bardel Entertainment, where he now serves as a Director for the Nickelodeon's Teenage Mutant Ninja Turtles series.  Here is a bit of Chris' story…
"I knew from an early age that I loved cartoons, and that shows like Looney Tunes were made by real people. As a career choice however, I had dreams of being a professional wrestler or a stuntman, but the injuries were racking up and I got worn out my regular trips to Emergency. 
Then in junior high school, my art teacher told me about VanArts, who was spreading the word about their programs throughout the province. In 1999 I enrolled in their Summer Intensive for animation, and from that point I knew I wanted to follow animation as a career. Right after graduating high school, I enrolled in their full-year program for 2D Classical Animation, followed by a second year of 3D Computer Animation. 
I started my career designing characters and doing freelance animation for Blenz Coffee's website, when a friend of mine from VanArts called me out to Calgary to work on an animated PSA about the dangers of smoking (as their company had realized they needed someone with traditional animation skills). That was my first taste of the good life: getting paid to make cartoons! Next, another friend from VanArts called me up looking for people to join him in India for a videogame concept he was directing! So I dropped everything and moved to the other side of the planet to work on this project for a year and a half. I made amazing friendships there and it ended up becoming one of the most important decisions in my life and career so far.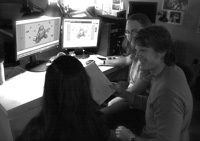 Upon returning to Vancouver, yet another friend from VanArts brought me onto a show called Jibber Jabber as Assistant Animation Director. Momentum kept building from there, as I was hired at Bardel for the first time on Zeke's Pad, where I ended up eventually becoming their Lead Animator. After a short period of working on other projects, I went back there as Animation Lead on Planet Sheen, Fanboy and Chum Chum, and then the big kahuna: Teenage Mutant Ninja Turtles!!! I've been working on this show now since 2011, working my way up to Director of Production. I now directly supervise a team of approximately 50 artists across Bardel's Vancouver and Kelowna studios. 
I could not have anticipated all the twists and turns that my career has taken so far, and I'm sure I will continue to be surprised as events continue to unfold. The things I know for certain: cultivate your network of schoolmates and teachers, put forth your best effort no matter what, and most of all: have fun making cartoons! In a nutshell, I love what I do! What more could a person ask for?"
Here is a reel of Chris' work on Teenage Mutant Ninja Turtles. Great work Chris, we're all proud of you!
Contact Us today about auditing an animation class or hearing about more successful graduates from VanArts!