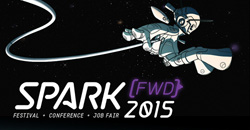 Our heads at VanArts are spinning with pride from this motherlode of a blog post! Graduates from our
Character Animation
,
Game Art & Design
and
Visual Effects
programs over the past 20 years are literally swarming the city right now LOVING WHAT THEY DO in our local industry, which is like crazy-go-nuts exploding right now. Nothing is more evident of this industry boom than this weekend's
SPARK FWD FESTIVAL
for Visual Effects in Vancouver, an annual highlight for our city and a chance for students & grads to network with top studio leaders, including global newcomers to Canada like
Framestore
(Montreal) and
Double Negative
(Vancouver).
While many of our grads have been lucky enough to stay at one studio for years on-end, in this industry it's normal to be mobile. You may work for a few months at one studio, then move to another, and another, a contract here, a contract there...but always exciting as you build up your resume with more film & TV credits and experience. With all of our grads busily moving from studio-to-studio like a game of musical chairs, it can be a challenge to track them down, but thanks to our personal network of detective mice around the city, we are excited to provide a snapshot of where some of our grads are...as of this very point in time!
These are the studios who are participating in the
SPARK FWD JOB FAIR
on Saturday, and a list of VanArts grads who are already working at these places locally right now. 

ATOMIC CARTOONS
Hallis Blaney - Daniel Laszlo - Maria Vasquez - Sean Thornton - Wesley Boone - Joel Burch - Esther Park - Matthew Bleasdale - Lyden Eftoda - Liz Syrnick - Kyra Lutsch - Walker Linna - Kyle Pritchard

DIGITAL DOMAIN - VANCOUVER
Patrick Thompson - Stephen James - Simon Butler - Masahiro Sawada 

GENER8 MEDIA CORP.
Danasa Arsad - Shirin Chawla - Vikas Ganer - Alvin Grado - Yash Gowda - Murat Ayasli

IMAGE ENGINE 
Leela Petrie - Lanie Dearing - Calvin Romeyn

INDUSTRIAL LIGHT & MAGIC - VANCOUVER
Sujil Sukumaran - Daniel Gonzalez - Matt Cowie - Blaine Toderian - Dan Finnegan - Ariel Chao - Aaron Brown - Rohit Nayak - Bobby Stockport - Stu Hunter

METHOD STUDIOS - VANCOUVER 
Esdras Prudente - Johnson Chuang - Nupur Sehgal - Anastaszja Karowlewska - Kodie McKenzie - Nick Molson - Reika Nishio - Steven Des Roches - Thomas Bevan - Harsh Mistri - Aren Kittlesen - Adam Zanotto

MOVING PICTURE COMPANY (MPC) - VANCOUVER
Theodore Sandy Hermawan - Daniel Pardo - Scott Eade - Phalguni Gala - Paco Castillo - James Adkins - Mohammed Saadeh - Samuel Simunjuntak - Melaina Mace - Andrew Bain - Stacy Fish - Aline Nordmark - Ken Ogbo - Shantanu Katiyar - Shane Wicklund - Eduardo Parra - Yoan Souligoux - Chris Sokalofsky - Armand Vladau

NERD CORPS ENTERTAINMENT
Lauson Morrow - Paul Zeke - Justin Stuber - Rushabh Punmiya - Mahima Kapoor - Esther Chen - Sylvie Richard - Adam Girard - Fernanda Dini Tavares - Kylie Hansen - Josh Samuels

RAINMAKER ENTERTAINMENT
Nash Pereira - Isaac Varghese - Ghaydaa Saleem - Harrison Wang - Curtis Hunt - Rodrigo Fernandez - Kevin Stevenson - Jonathan Dick - Aaron Strasbourg - Matthew Alder - Ofek Maymoni - Nicolas Erdos - Raul Giminez - Marleh Mangahas - Michael Royce 

ZOIC STUDIOS
Pranjal Verma - Kalvin Kingdon - Suresh Padmaraj - Ashish Dani - Mike Smith-Kennard - Felipe Infante - Chris Lucas - Takateru Izaki - Yoshiko Tanaguchi
...BUT WAIT, THERE'S MORE!
There are also tons of VanArts grads currently working at these other major studios in town....

SONY PICTURES IMAGEWORKS
Agata Matuszak - Michael Jahnke - Rambo Snyder - Callum LaPrairie

SCANLINE VFX
Chris Courtland - Alexis Chapman - Jack McAllan - Nicole Smith - Robert Crowther - Stephen Kelloway - Victor Barbosa

NITROGEN STUDIOS
David Dick - David Lavoie - Aldo Scarella - Alihusen Kapadia - Avril Grace Villodres - Vadim Shlompher

ELECTRONIC ARTS 
Derek Levesque - Josh Awesome - Sin Loh - Blake Standard - Chris Bruin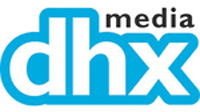 DHX MEDIA
Rory Neil - Nicole Standard - Stephanie Mahoney - Channel MacMaster - Meredith Penner - Brian Johnson - Kat Stenson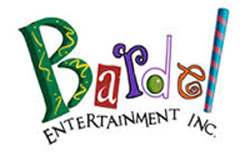 BARDEL ENTERTAINMENT 
Brian Ahlf - Julia Liu - Chris Woods - Nathan Litz - Sujan Chowdhury - Shane Holmes - Ricardo Torres - Allesandro Adamo - Ricardo Osuna - Estefania Delgadillo - Tara Barker - Sarah Huff - Ryan Dergousoff - Carlo Gemmani - Pavan Deshpande - Euna Kyung - Emily Cooper - Jordan Annette - Tiago Belo-Ramos - Austin Wright - Mark Dallas - Sarah Tachibana - Norvan Saguiped - Irving Sevilla - Renee Cameron - Priscilla Vaddadi - Shingi Zvavamwe - Soumi Bose - David Ortiz - Santosh Seshabhattar - Stuart MacGillivray - Carlos Cantoral - Agatha Kasprazak - Chris Browne - David Chen - Ricardo Pozas - Amanda Buchan - Regan Greenwood - Hitoshi Aso - Min Jee Lee
...we could keep going into many other animation, game and FX houses where our grads can be found making movie magic happen in Vancouver and all over the world, but we think it's time you spoke to us to find out how YOU can make it onto this list!
Think you got what it takes?
Come out and join us for a FREE CLASS AUDIT or speak with our Admissions staff now about learning from the same industry professional faculty who helped these grads grab their dream jobs.