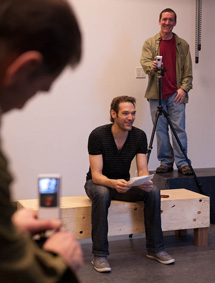 Today in the VanArts studio, students from our 3D Character Animation and Acting departments were collaborating for the animators' final demo reel projects. By directing the actors and shooting reference footage, animators can boost the quality of their character performance.
Through supervision and guidance by Wayne Gilbert, Head of Animation / Dean of Faculty, and Chilton Crane, Head of Acting for Film & Television, this unique collaboration is a regular part of both programs at VanArts.
Keep following the blog for an upcoming video episode of "Inside VanArts" that will reveal more of the process behind today's shoot!