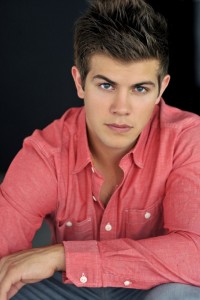 For a Canadian actor, what could be better than a reputation for playing hockey players?
Andrew Herr is one of our stars from the William Davis Centre for Actors' Study at VanArts who has had a steady stream of success since graduating in 2012. One of his earliest gigs was a leading role as Mark Howe in the CBC TV movie Mr. Hockey: The Gordie Howe Story. In this film he played alongside Dylan Playfair as his brother Marty, and now both actors are teamed up again as a pair of hockey players in the new comedy series Letterkenny. The show is the first original series created for streaming on CraveTV and also plays on the Comedy Network.
Andrew plays the character Jonesy, a junior B player for the Letterkenny Clovers and sidekick to his teammate Reilly (Playfair). This news article about Andrew goes into detail on his evolution from Mr. Hockey to his brand new role. As for how his career is going, he says, "I'm getting a little bit of heat or buzz around my work. Letterkenny's coming out, Goon 2 will come out, Mostly Ghostly will come out. I've been working hard lining up some projects. I just wanted to focus on acting, because it's ultimately what I want to do."
About his time at VanArts that prepared him for his life's work, Andrew says, "VanArts helped me learn and use all the tools necessary to work as an actor. They pushed me beyond my comfort zone to find ways of working the craft continually, even outside the classroom.  All that I learned at VanArts I will continue to work on and use for the rest of my life."
Our own "Mr. Hockey" is doing us proud! Check out a snapshot of Andrew's career on IMDB and watch him in this behind-the-scenes look at Letterkenny.
Are you next on set? Apply Now to our Acting for Film & TV program!