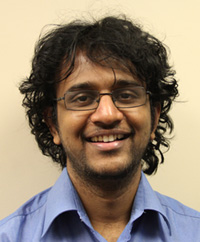 Studying at VanArts has reaped good results for 3D Character Animation graduate Suresh Padmaraj of Chennai, India.
His final short film, Right or Wrong, was featured on the Canadian Animation Blog in their SHORTS section, and he also secured 4th position in the Character Animation Critique Festival, where he earned a one-on-one critique by Dreamworks Animator Anand Baid. And to top it off, he has also been hired by Gener8 Digital Media in Vancouver as a Roto Animator! 
Before coming to VanArts, Suresh was an intern and TA at Media Arts & Science College and Picasso Animation in India. Based on a recommendation by a previous VanArts graduate Satish Namboodiry (now a Character Artist at FullFat Studios in the UK), Suresh and his friend Janani Sridhar both applied to study here. Janani also was hired as a Roto Artist at Waterproof Studios after graduating from our Visual Effects program. 
Of his experience at VanArts, Suresh shares, "Everyone here at VanArts loves what they do and that makes all the difference. This inevitably creates an amazing atmosphere to learn and grow. Thanks to my wonderful instructors, their support and guidance inspired me to become a better artist, and my fellow classmates from all over the globe gave me an unparalleled cultural and professional exposure. VanArts comes with my whole-hearted recommendation for anyone who aspires to be an artist."