During a recent building demolition at Granville and Robson Street in downtown Vancouver, a fascinating piece of film history saw the light of day for the first time in 90 years. A "ghost sign" (common term for a sign that represents a dead business) pointing to the now-gone Capitol Theatre, where the silent comedy Grandma's Boy starring screen legend Harold Llloyd was scheduled to begin playing on October 2, 1922.  This sign was covered up shortly afterwards by another building, hidden from sight until just a few days ago.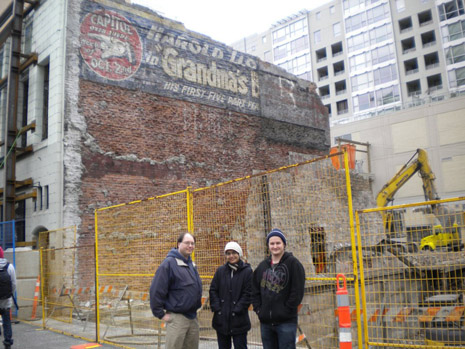 Our animation history instructor at VanArts, Charles Phillips (pictured above with two of his students), has a great passion and extensive knowledge of silent film comedians, particularly his hero Harold Lloyd. He has often shown the film Grandma's Boy to our animation students in his history course, and spoken about the influence of the silent film era on the early days of animation.
We went with Charles down to the site of the ghost sign downtown to record him talking about this amazing piece of our city's history, and just one day after we shot this video, the sign was demolished.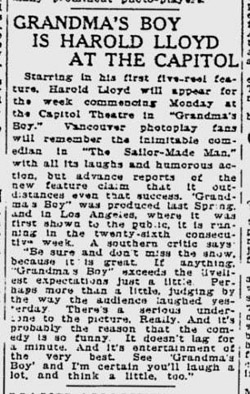 Click on the link at the end of this video to continue into a more extensive history lesson by Charles about the history of Harold Lloyd's film Grandma's Boy in context with the silent film era and other artists like Charlie Chaplin.
Shown here is also a movie review and advertisement from the Vancouver Sun from the original run of Grandma's Boy. 
For more information on the uncovering of this sign, read this article from the Vancouver Sun >>
Read another article on the final demolition of the sign here >>
Click here for more Vancouver Sun newspaper ads for the film from 1922 >>
Thanks Charles for sharing your vast knowledge with us about this historic find!
UPDATE: Charles was invited to introduce a screening of the film Grandma's Boy at the VanCity Theatre on Wed March 14th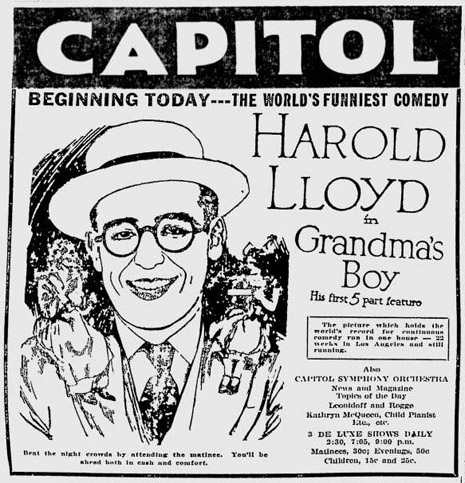 Linked articles © Copyright (c) The Vancouver Sun