From anywhere in the world, join us for a FREE WEBINAR looking behind-the-scenes at the web industry in Vancouver and why you need to be a part of it.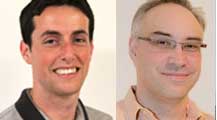 Chat online with us as we stream live from Vancouver with our Web Development faculty James Finn (Head of Web Dev & Design at VanArts) and Patrick Sauriol (Digital Marketing Instructor)
This is a great opportunity to get a taste of the amazing things we teach at VanArts, and hear about our graduates working successfully in the industry.
When: Wednesday, October 4th @ 8:30am & 6:30pm Pacific Time
Please register online to confirm your attendance at the time that suits you best. We will e-mail you a direct link to access the webinar 24 hours before it starts.