VanArts is pleased to welcome award-winning animator Wayne Gilbert aboard as our new Head of Animation effective September 1, 2009.  We look forward to his professional direction and involvement with our animation students and faculty. 
Wayne Gilbert has two Clio awards and has worked on productions ranging from Hulk Mountain Dew commercials to Care Bears to Star Wars, Mummy 2 and award-winning video games. He graduated from Sheridan College in the mid-1970s and began his animation career on television special titled Witch's Night Out, then on to Nelvana for animation & background work on specials & commercials, and serving as Background Department Head for the feature film Rock & Rule. After leaving the studio life to freelance, he instructed and coordinated Sheridan's Classical Animation program. During this time he made two short films, Bottoms Up and Traffic Jam, which screened at the Annecy Animation Festival in France. In 1996 he was recruited to help set up the Walt Disney Canada studio in Toronto, then headed to ILM where he worked for 7 years transitioning to computer animation, and making two more short films, CPU and the award-winning Let Go.  Wayne returned to Canada in 2005 to work as Senior Animation Director at EA Black Box on the award-winning games Skate and Skate II. 
While working in production at ILM, Disney and EA, he also designed and delivered Professional Development classes for animators. His book, Simplified Drawing for Planning Animation, has helped to support the craft of animating since 1999 and is required text at animation schools.  Wayne has lectured on animation and filmmaking at a long list of international venues and is involved with Animation Mentor online school for animation.  He has written a novel and screenplay, and is now working to bring them into production.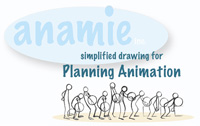 IMDB.