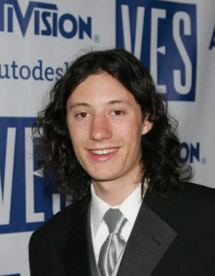 Jonah West, a graduate of the Visual Effects Diploma Program at VanArts, is the founder, president and VFX supervisor of Light Ray Visual Effects in Taiwan. The company has been in operation for over 3 years, providing work for clients such as Asus Computers, Tennis Channel, Magic World Online, Material Queen, Art Taipei, and many more.
After graduating from VanArts, Jonah started his career at a small web TV company called Gryphon TV, shooting green-screen plates and creating 3D backgrounds. From there, he took a job offer from Anthem FX, where he worked as a compositor, matte painter, and 3D generalist on TV series such as Masters of Horror, Tin Man and Sanctuary, and feature films Third Mother and Vipers. In 2007 Jonah was nominated for a Visual Effects Society Award for his matte painting on Tin Man. After 3 years at Anthem, he decided to pursue his dream of running his own studio.
Jonah shares with us, "VanArts gave me the skills and knowledge I needed to be at the forefront of the visual effects industry.  The experience I gained allowed me to overcome every challenge I faced as a VFX artist and now as a supervisor & company owner.  My skills are now in very high demand and I'm often invited to give workshops at companies & events all across Asia. I would highly recommend VanArts to anyone wanting a career in the VFX or Animation industries."
Check out Jonah's work at www.lightrayfx.com