VanArts had an impressive presence at this year's premier Vancouver Visual Effects festival, now in its 2nd year, and the festival had an equally impressive impact on VanArts, who were proud to lend their support.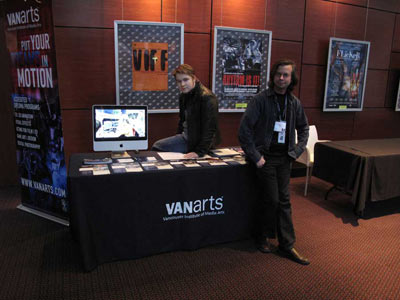 Admissions Director Ken Priebe, and VFX Department TA Max
Schroeder staff the VanArts booth at the VanCity Theatre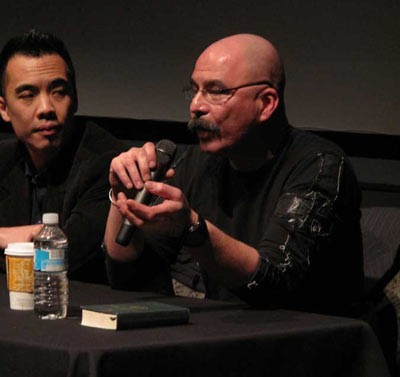 Doug Smith discusses how
game design infrastructure is applicable to visual effects
VanArts faculty were also roaming the stage as well, as Compositing Supervisor Mike Adkisson, and former VFX Department Head Doug Smith sat on the panel sessions "VFX in Vancouver" and "Pipedreams: In Search of the Perfect Production Solution," respectively, and Admissions Director and stop-motion animation expert Ken Priebe introduced the film "The 7th Voyage of Sinbad."
Best of all, on Sunday, January 26th, we were able to host 6 of the biggest names in the VFX industry, Mark Coleran, Paul Debevec, Harrison Ellenshaw, Marshall Krasser, Shane Mahan and Gordon Smith, for a fantastic Q&A session and hands-on discussion at the school, where this amazing collection of talent went over our students' VFX projects with them, and where everyone was having such a good time that the speakers had to literally be dragged away from the students when it was time for them to catch their flights out of town.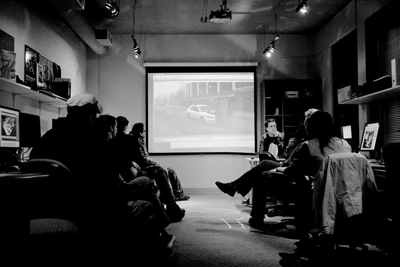 VFX 10 students present their work-in-progress to the distinguished guests
And we're doing it again, as VanArts continues to offer our support to Vancouver ACM SIGGRAPH and the VFX community in Vancouver and worldwide, with our support of the upcoming SPARK Animation Festival in September 2009 and, of course as a proud partner with Vancouver ACM SIGGRAPH for SPARK FX Festival 2010 in Vancouver's Olympics year.
For the full press release with photos, click below (PDF, 898KB):