Atomic Cartoons in Vancouver has been gearing up on production of new shows, and that means they need animators! Luckily, VanArts has been offering professional training long enough to provide this talent for them. Currently there are close to 30 VanArts grads working at Atomic, many of them collectively from the most recent class that just graduated in March. We were able to grab a good number of them for a group photo to celebrate their success!
VanArts, ranked #6 worldwide in the Top 100 Animation Schools by Animation Career Review, is known as the go-to school in Vancouver for training in Toonboom's Harmony software for digital 2D animation, and as Atomic and many other local studios are using Harmony, this provides many opportunities right now for jobs!
Congratulations to all our grads who are living the dream at Atomic!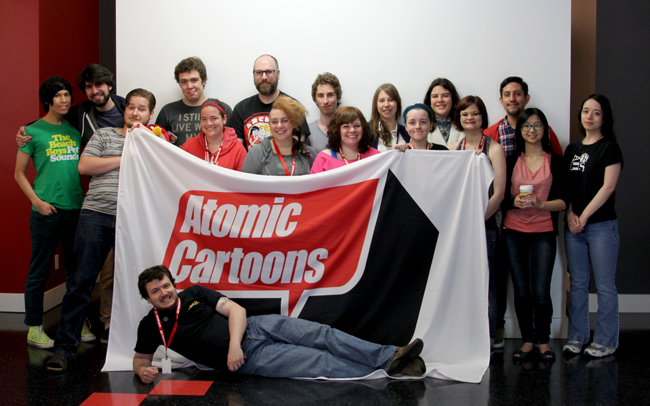 For more blog stories we've posted previously on some of these particular grads, visit these links:
Hallis Blaney: Animation Graduate directing in Vancouver
Spencer Soares: Animation Grad wins Top Award at Student Film Fest
Regan Greenwood: Journey from Ashcroft to Animation
Kyle Pritchard: From Ottawa to Vancouver: An Animator's Journey
Rhin Kelly: VanArts Graduate enjoys pursuing degree at Deakin
Read more about the booming Animation & Visual Effects industry in Vancouver here >>