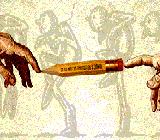 Two former students from VanArts had their professionally directed short films entered into competition at the 2D or not 2D Animation Festival in Everett, WA which happened November 2-3, 2007.
First is 3D Animation graduate Galen Fott's film for Scholastic/Weston Woods, The Librarian from the Black Lagoon, which was awarded a Merit Certificate at the festival! The film also features animation contributed by several other VanArts grads: Micah Baker, Kevin Yowell, Lindsey Layne King, Andy Simpson and Ken Priebe. Galen directed the film through his own company Bigfott Studios, and currently has many other animated films in production. Click for a biography of Galen's career!
Second is 2D Animation graduate Mario Pochat's film Marcelino and Bartolomeo: Bye-Bye! Mario is originally from Mexico and has a vast background in computer animation. He has taught at VanArts and is currently working at Rainmaker Entertainment in Vancouver, BC.
For a report on the festival and program of films, visit here.