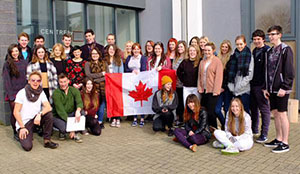 Lights…cameras….action! 
Our Digital Photography department is getting ready for an exciting event next week, when they will be collaborating on a special student project with a class of students from our partner school University of Gloucestershire in Cheltenham, UK from March 23-27th.  
Students from the UK have already arrived in Vancouver for their field trip experience, under the leadership of their Head of Editorial & Advertising Photography, Trudie Ballantyne.   
Starting on Monday, the united group of students will begin working with a local industry sponsor through team planning, shooting, printing and finally presenting their photographs in a free gallery show on Friday, at @thisopenspace on 434 Columbia Street in Vancouver. It's going to be a packed week for sure! 
This collaborative project is one of many facets of the unique partnership that exists between us and University of Gloucestershire, one of our nine university partners for degree pathways. 
Keep watch at @vanarts for live updates as the creativity unfolds, and a future blog story summarizing the whole experience!