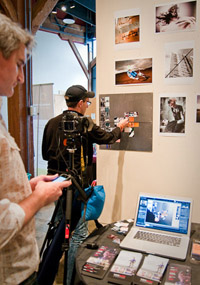 VanArts was proud to be an exhibitor at the 2nd annual Creative Mix Ideation Conference at the Roundhouse Community Centre in Vancouver yesterday. The floor hosted a variety of creative artists, programs and schools representing the arts in our creative community, so we were glad to be a part of it. Digital Photography Program Manager Christa LeCraw, Studio Manager Jeff Bell, and Communications Director/Stop-Motion Animation Instructor Ken Priebe were on hand at the VanArts booth to network with attendees, share information on our programs, and keep everyone creative with some fun interactive activities.
Participants got to create their own photo-mosaics…
…and create their own "animation jam" in stop-motion (including a home-made puppet from the fun Mighty Ugly activity booth)
Check out creativemix.ca for more information on this inspiring event!