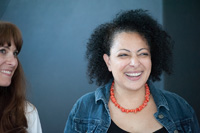 Tears were a-flowing last week in the VanArts Digital Photography department as we said bon voyage to one of our own celebrated staff members, the lovely Reem Abdel-Jabbar, who served as our Studio Manager for the past three years. Reem is also a VanArts graduate, who teamed up with her fellow classmate Martina Kopp to form an award-winning fashion photography business MARTINA + REEM, and they are both now moving on to further photographic adventures in Toronto, ON.
Reem's journey at VanArts began when she applied to our Digital Photography program at an Info Session in Edmonton Alberta, and soon was enrolled here from 2009-2010 in class DP7. It was there that she met Martina, and soon after graduating the two of them teamed up to start their business. Reem eventually returned to VanArts as our Studio Manager at the same time, and along with our Department Head Ian McGuffie, Program Manager Jeff Bell and Assistant Belle Ancell, has been part of the glue that holds our amazing department together.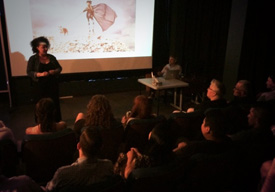 But alas, last Friday was Reem's last day with us, so she and Martina taught one final fashion photography class to our current students, and that night we had a gathering of DP students and alumni to re-connect, send her off and wish her well. It was an emotional evening, as you can imagine, as Jeff and Belle fought back tears thanking and praising Reem for all the great support she gave to our students. As Ian said about her journey from student to photographer, "Reem is an example to all of us why VanArts is here, as we're all about changing lives. Photography is not just a job, it's a creative life."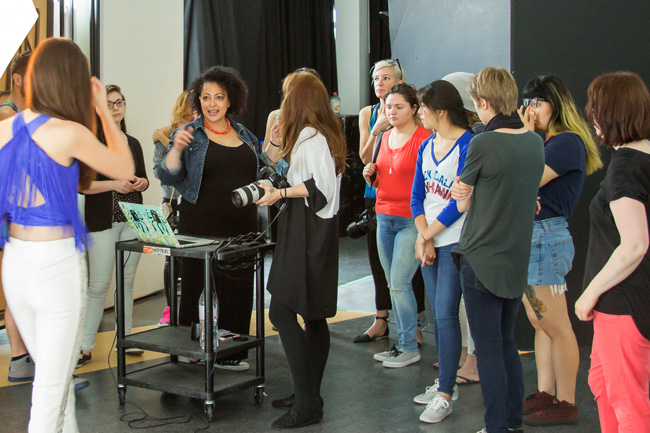 MARTINA + REEM have had their work featured in dozens of magazines, won awards in competitions including the Prix de la Photographic Paris, IPA and PDN The Look, collaborated on a clothing line with Some Product Apparel, and had their fine art photography represented by The Atelier Gallery in Montreal. Their newest project is an upcoming printed book featuring their portraits of brain tumor survivors for the Brain Tumor Foundation of Canada, which will be a massive fundraising effort for the foundation. For the rest of the summer they will be shooting for a food company in Edmonton and connecting with several agencies in Europe, before settling into the Toronto scene by Fall 2015.
As Reem shared with us Friday night about her career path, she said "Coming to VanArts is the best thing I ever did. You guys have all become my second family." We will miss you Reem, and can't wait to see what happens next in your amazing photographic journey! Thanks for everything!