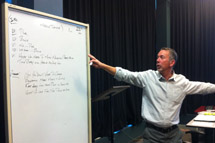 Students in our Broadcasting for Radio & Television program at Columbia Academy at VanArts received a special visit today from guest speaker Rick Holmes, Creative Director at CJJR FM Radio/102.7 The Peak.
Rick led the students through an interactive exercise where they got to brainstorm, write, and perform a 30-second radio spot, all within the allotted short presentation time. The room was alive with laughter and creativity as they worked and bounced ideas around together. 
Thanks Rick for coming in to inspire, train and interact with our future broadcasters!