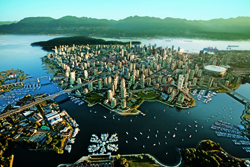 Our amazing home of Vancouver is all over the map these days, and we couldn't be more excited! 
Of course we would be a little biased in saying that Vancouver is the best place to live in North America, but now according to Mercer's latest Quality of Living Rankings, it's official. We placed fifth worldwide for the second year in a row and as our region's only city in the top 10. You can read more about it here…we're pretty proud. 
On top of this, there are reports all over the Internets on sites like our own local favorite VanCityBuzz about a myriad of feature films & TV series coming to be shot in our own backyard. Confirmed reports have come in that STAR TREK 3, TRON 3, Steven Spielberg's production of Roald Dahl's THE BFG, X-Men spinoff DEADPOOL and a WALKING DEAD spinoff will be filming here in 2015. This is all in addition to the many shows already in production here, including ARROW, CONTINUUM, THE FLASH, ONCE UPON A TIME, THE 100, SUPERNATURAL, and tons more. 
…and of course yesterday the news started trending that THE X-FILES, one of our favorite staple shows from the past, is returning for a 6-episode reboot. No confirmations yet if it will return to Vancouver, but the truth is out there and we'll see what happens! Update: THE X-FILES IS RETURNING, as is our own Acting Department founder William B. Davis ("The Smoking Man"). Read our story here!

This is all really exciting news if you want to be an actor, a set photographer, or an artist working on animation or visual effects for these films. Sony Pictures Imageworks is also moving their entire studio here from Hollywood and clamoring for talent. The lights, cameras and computers are warming up and ready for you...and on top of this, you still have the mountains, the beaches, the nightlife, the food, Stanley Park, Granville Island…we could keep going, but it would be better if you came to visit us yourself. 
Come CHAT WITH US TODAY about auditing a class at VanArts and being part of the scene here in Vancouver. There's no better time to do it!