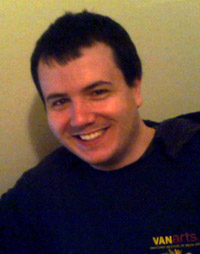 VanArts Character Animation graduate Kyle Pritchard has just recently been hired as a Harmony animator at Atomic Cartoons here in Vancouver. Kyle first heard of VanArts at an Info Session we held during the Ottawa Animation Festival in 2006, which inspired him to move to Vancouver with a new goal to work in the industry. His story is a great example of how passion and persistence can help you reach your dream career.
Kyle shares with us, "Back in Ottawa, I was just a guy who loved to draw and watch cartoons. I always found it fascinating that people could create dreams and ideas into reality doing this, and after attending an Info Session by VanArts, I learnt that I could do this too, with their help. I was convinced this was the place for me, so I came to Vancouver and became a student at VanArts.
It turned out to be even BETTER than I had originally thought. I was surprised by the drastic change in skill I had gained after learning from their very talented faculty. Being around like-minded artists, I felt very comfortable, learned more about animation than I thought I ever could, and had a lot of fun!  
With that knowledge and improved skill, I got my first gig with Atomic Cartoons, and I am very happy I chose VanArts to get me where I am!  Just remember...NEVER GIVE UP ON YOUR DREAMS!"