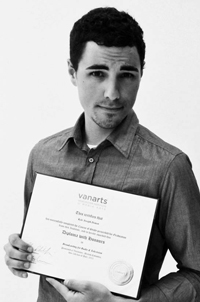 Columbia Academy at VanArts is proud to shout-out to several of our new Broadcasting graduates who are now making their mark in the industry, after completing their studies just this year.
Kyle Donen (left) is now the Media Communications Coordinator and play-by-play announcer with the Langley Event Centre, Kyle Dyck (below left) is on the air at The River in Kamloops, Alysha Silva (below center) is hitting the clean clear airwaves at GX94 in Yorkton, SK, and Ashley Sloan (below right) is on the air at 92.7 LAKE FM in Alberta. And this is just the beginning! Check out the Columbia Academy at VanArts Facebook page for a fresh snapshot of where so many of the school's graduates from over the years are now.
The future of Broadcasting is in good hands!