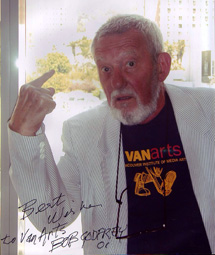 VanArts is proud to wish a Happy 90th Birthday today to our good friend, founding advisory board member and visiting faculty Bob Godfrey!
Starting in 1997, Bob Godfrey visited VanArts every summer as a guest instructor and was part of the founding advisory board for our Animation Department, along with other legendary animators Lee Mishkin, Bill Matthews, Bonita Versh and Ken Southworth. For 10 years following, Bob taught students in our full-time program and summer intensive programs for classical 2D animation.
Born in 1921, Bob Godfrey is one of the most well-renowned animation figures in the UK and around the world, having animated short films and commercials for over 50 years. He has inspired countless animators including Richard Williams and Nick Park, and helped many animators break into the business. His films have won several awards including an Oscar in 1975 for his animated film Great, and his success garnered him the Member of the British Empire medal in 1986. He has also shared his animation knowledge with hundreds of eager students at the Royal College of Art and many other schools, including VanArts. 
Learn more about the legendary Bob Godfrey at www.bobgodfreyfilms.com
Thank you Bob for all the support and advice you've given to our animation students over the years, and Happy Birthday!