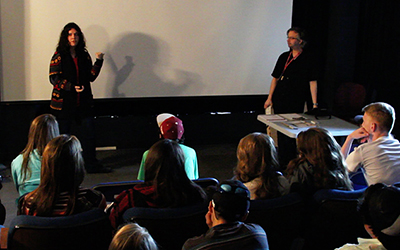 VanArts welcomed a group of high school students this week from Ashcroft Secondary School in Ashcroft, British Columbia, who came to hear about the exciting post-secondary education that we offer for the media arts. For this special occasion, we invited one of their own alumni, Regan Greenwood, who came to VanArts' 2D/3D Character Animation program after graduating from Ashcroft. Regan is now working as an Animator at Atomic Cartoons here in Vancouver, and she took a short break from production to share about her experience with our guest students.
Atomic Cartoons has hired a large number of graduates from VanArts in the past few months as they gear up on a new television series. Their training in ToonBoom's Harmony software has been a huge asset, as the 2D Character Animation program at VanArts has become to go-to school for Harmony animators.
Check out this short video were Regan shares with us about her experience studying at VanArts and launching her career as an animator.
For more information on Character Animation at VanArts, contact us today!