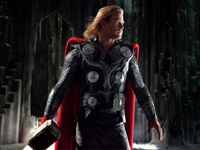 The recent summer release of THOR bears the stamp of some esteemed graduates of VanArts who contributed to animation and visual effects for the film at the Digital Domain studio here in Vancovuer. 
Agata Matuszak is an animation graduate from VanArts who studied in both of our 2D and 3D programs for two years of study, from 2003 to 2005. Switching gears from a pre-med background, she approached VanArts on a recommendation from a friend, based on her life-long interest in drawing and cartooning. After taking our Intro to Basic Drawing class to further develop her portfolio, she was admitted into the 2D Animation Diploma Program and fell in love with the medium of character animation. Since graduating from VanArts she has enjoyed an illustrious career in the animation industry, working for studios and improving her skills.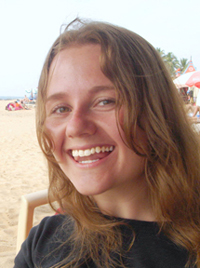 Upon graduation, Agata's first job was with Veda Games studio in India, which was actually started by another VanArts graduate from our first class of Game Art & Design, and had many other VanArts grads on board the team. Upon returning to Vancouver she worked at Rainmaker Entertainment on feature films such as Night at the Museum, Case 39 and Blades of Glory, and also returned at times to VanArts to mentor our animation students. She then took some time off to enhance her animation skills further through AnimationMentor, and moved on to work at Digital Domain animating fight scenes for THOR. Currently, she is an animator at Prime Focus.
About her time at VanArts which started her along this entire journey, Agata has shared with us, "My experience at Vanarts was amazing. During the 2 years studying 2D and 3D animation, it was a lot of hard work and many late nights, but without those challenging exercises and well balanced classes that gave us more one-on-one time with the teachers and hard work, I wouldn't be where I am today."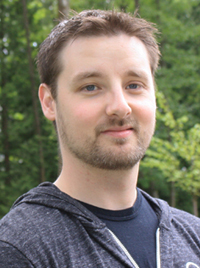 Stephen Kelloway graduated from the one-year 3D Animation Diploma Program at VanArts in 2006. His first job offer came from local studio Nerdcorps Entertainment, based on a recommendation from one of his VanArts instructors. Working there as an animator for 18 months on the Hot Wheels and Stormhawks TV series, with very little time to complete shots, forced him to focus his attention on what is important and also how to animate in a way that allows for quick and easy changes. This would serve to benefit him the most as his career unfolded.
Stephen next transitioned into visual effects work at Anthem FX where he worked on TV series Sanctuary and Alice, and the feature film Tucker and Dale vs. Evil. Within a year at Anthem he was promoted to the Creature and Animation Lead, and eventually was offered the job at Digital Domain Vancouver to work on THOR. More recently he has worked on some projects at Image Engine.
On his experience training and working for the animation industry, Stephen shares with us, "At VanArts I learned not just how to be an animator, but how to be an artist; how to expose my work to criticism and use it to grow, how to see beyond the technical usage of a software package and instead how to create a performance. I also learned the value of building relationships, as several of my job offers would come from my instructors and classmates. It's not only about networking, it's about finding those people who genuinely care about your success and whose success you also care about. This collaborative nature, which was introduced to me at VanArts, is what taught me what it means to be an animator. The passion we share as artists is what drives us to an industry that takes so much of our time from us, but the experiences we share and the people we meet are what make it all worthwhile."
Finally, Victor Barbosa (seen in the photo below on the left with Stephen Kelloway at our Game Art & Design Industry Critique Night) is another graduate of our 3D Animation Diploma program from 2006 who has enjoyed an illustrious career and also continues to offer his services to our students as an instructor and industry professional. 
Victor's career started in Brazil working as a 3D generalist before he immigrated to Canada and studied at VanArts. Upon graduation he also landed a job at Nerdcorps Entertainment as an animator on Season 1 for The League of Super Evil. From there he moved on to Anthem FX to work on many of the same projects as his classmate Stephen, before the transition to Digital Domain and working on THOR. Currently he is at CIS Hollywood in Vancouver working as a rigger on Clint Eastwood's upcoming feature J. Edgar.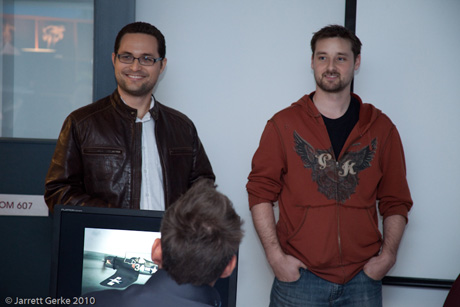 Congratulations and Thank You to our graduates who continue to inspire and guide the students of VanArts, past, present and future!