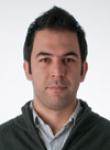 VanArts' featured faculty for this week is our Head of Web Development & Interactive Design, Ali Efe. 
Ali began his educational and professional career with a Bachelors of Science in mechanical engineering and an Masters of Science in computer engineering, from Beykent and Pamukkale Universities in Turkey. Soon afterwards Ali studied web design and computer programming at the Institute of Advanced Media in Canada. Throughout his educational career he has been very active as a researcher, IT technician and web programmer, participated in several conferences and published articles. More recently he has designed and built websites for a wide variety of clients in Vancouver.
In this special video, Ali explains the benefits of studying web development at VanArts and talks about our expanded focus on the future trends of development for mobile devices. 
To speak with Ali directly and learn more about a career in web development & design, register for our webinar.