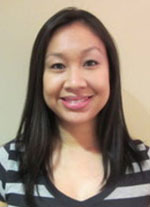 Niña Laureles has been working steadily in Vancouver's film & effects industry since graduating from the Visual Effects diploma program at VanArts. 
Starting her career on small projects and music videos, Niña began as a render wrangler at Method Studios, eventually moving into an effects TD (Technical Director) position on Abraham Lincoln: Vampire Hunter. From there, she moved on to The Embassy to work on Neil Blomkamp's Elysium and to Rainmaker Entertainment on their Barbie animated feature. She is now at Vancouver's branch of Rhythm & Hues as an effects TD on the upcoming feature Percy Jackson: Sea of Monsters. 
Of her time at VanArts, Niña shares with us, "In the intensive one-year program at VanArts, I not only learned all the fundamentals and possibilities for visual effects, but I also learned 'how to see'...how even the most miniscule thing like dust or debris off footprints you would notice if it wasn't there.  After VanArts, everything looked entirely different...clearer and more tangible. I also learned that in the VFX industry, you never stop learning, and that the friendships and growing network that came out of VanArts is amazing! Vancouver is a great place to be working in VFX right now.
My advice for anyone studying VFX: do it because you love it, stay positive, humbled and friendly, keep applying and checking in with recruiters, and timing is everything...all you need to do is be prepared!"