Recent 2D Character Animation graduates Allessandro Adamo, from Italy, and Esther Park, from New Brunswick, have just started working at a new studio in Sherbrooke, Quebec called Kaffeine Animation. They are working together on Season 2 of the show Walter and Tandoori, using Toon Boom Harmony, the software they learned at VanArts.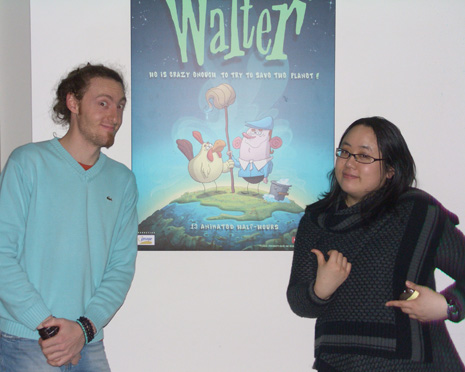 Says Esther of her experience at VanArts, "I first came to VanArts for the 2007 1-month summer intensive, and later returned for the full-time diploma program. I made lots of friends, learned a lot about animation from awesome teachers, improved my knowledge of this art form and industry. It was a great experience and I have no regrets!"
Says Allessandro of his experience at VanArts, "As Vancouver is one of the best cities for quality of life, I searched for a school that deeply focused on character animation and found VanArts. I chose them not only because they focus on animation, but also the background experience of the instructors.  They had worked on cartoons I watched from my childhood, so it was like a full circle!  My experience there was AMAZING...no matter what level we were at, we were pushed to give our best, learn the rules before breaking them, and to be artistically creative. The best part is that now my teachers have become my friends, who help me when I need it."
Congratulations to you both on your new animation careers!