A Journey Through Time
Acting for Film & Television alumnus Braeden Clarke has been on an incredible adventure filming in Scotland, after booking a role in the historical time-travel drama series Outlander.
Braeden plays the role of Kaheroton, a young Mohawk war chief, as a recurring principal in Season 4 of the Sony Pictures Television series, airing on Starz. As a member of the Mikisew Cree First Nation in Fort Chipewyan, Alberta, the role is a natural fit and dream job for this passionate young actor, who will be returning for future seasons.
We asked Braeden to share some of his experiences with us, and here's what he had to say:
"The whole experience still hasn't set in and doesn't seem real, but I've made so many lifelong friends among the cast and crew. I make a point to talk to everyone, and it's been unforgettable. 
My teachers in the acting program at VanArts never gave up on me, and showed me that tough love is needed to succeed. They gave me the tools to break down scripts & scenes and bring them to life. One of the lessons I still use everyday is to breathe. This may seem obvious, but when you have a hundred eyes and a camera on you, let me tell you…you'll forget to breathe!"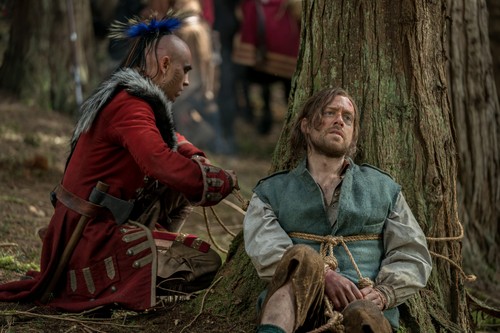 Persistence Pays Off in Acting
In nearly four years since graduating from VanArts, Braeden has also booked roles on DC's Legends of Tomorrow, Imaginary Mary, Demon X, and done voice-overs for the Far Cry 5 video game. He also had a golden opportunity to act on stage for a Boys' Club Network theater production of Man Up! which was performed for the Squamish Nation on Parliament Hill in Ottawa.
It's been a long journey to land his Outlander role, but as Braeden tells us, "Acting is very hard, but if it was easy, everyone would be doing it. If you love it, stick with it and don't give up. I couldn't imagine doing anything else than what I'm doing right now." 
Congratulations, Braeden! Keep up the good work!