Next Start Dates
January 22, 2024
March 11, 2024
April 29, 2024
Prerequisites: Intro to Acting or equivalent experience
Requisite for: Acting for Film & TV - Level II
What You'll Learn
Course Info
This 6-week course focuses on the basics of acting for the camera. Students will work on assigned scenes from modern film and TV scripts. Understanding the story of the scene, blocking, using the camera frame, props and costumes will all be covered. Professional on-set work habits will be used. All work will be recorded, viewed, and critiqued.
Schedule:
Monday or Tuesday evenings, 7:00pm – 10:30pm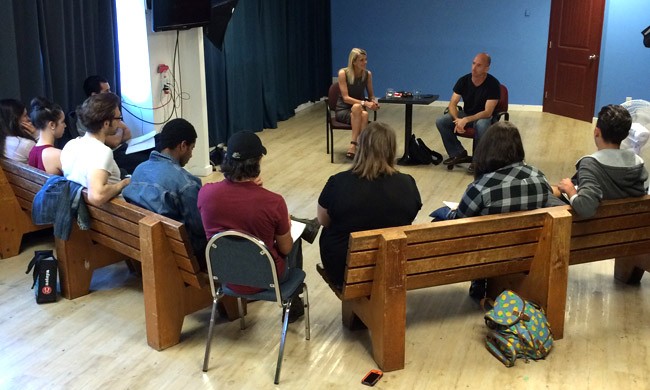 Basics Story Blocking Camera Frame Props Costumes
Terms & Conditions
Please note: This program does not require approval under the Private Training Act (PTA). Students may not file a claim against the Student Tuition Protection Fund with the Private Training Institutions Branch (PTIB) regarding this program.
Terms & Conditions
Tuition
Tuition is due in full at the time of registration.
Tuition is not protected by PTIB's Student Tuition Protection Fund. For more information visit: www.privatetraininginstitutions.gov.bc.ca/students/student-tuition-protection-fund
Cancellation
In the event that VanArts cancels a part-time program, all registrants for that program will receive a full refund.
VanArts may cancel a part-time program if enrolments do not reach our minimum capacities.
Refund Policy
There is a non-refundable cancellation fee of 20% of the part-time program tuition.
Written notice of withdrawal to admissions@vanarts.com is required.
Non-attendance without written notice does not constitute eligibility for a refund.
Refunds of the full program tuition, less the 20% cancellation fee, will be granted up to seven calendar days before the start date of the part-time program.
No refunds will be granted less than seven days before the start date of the part-time program.
About the Instructor
About
Julie Howgate
Instructor
From Winnipeg to London to Vancouver, Julie Howgate has   trained, performed and taught in theatre, TV and film for well over a decade. Expert at teaching beginning actors, she has introduced over 500 students at the Centre to the thrill of acting. European credits include Brookside (BBC), Soul Survivor (Trisquare), and French National commercial "Orange". North American credits include Hallowe'en 8, The Gut Girls , US national "Got Milk" commercials and character voice work for Da Vinci's Inquest . Julie just made her directorial debut with Alan Ball's Five Women Wearing the Same Dress for Kindred Spirits. She brings with her the eclectic background and positive attitude needed to facilitate true acting.
Tuition
International
$300.00 CAD
Additional Information
Audits of current running courses always welcome. Contact us for arrangement.
International Students
Please note that letters of acceptance are not issued for part-time courses, that the course may be cancelled if student enrolment is low, and that we advise any international students signing up for part-time courses to only do so if they are currently residing in Vancouver or if this course is not their sole purpose for visiting.