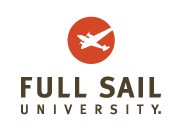 For graduates in Character Animation, Game Art & Design, Visual Effectsand Web Development from VanArts, a partnership for degree pathways has been established with Full Sail University in the United States. Located in Winter Park, Florida (just minutes from Orlando), Full Sail University is a school designed to give students real-world experience in entertainment, media arts, and technology.
This partnership allows animation, game art and visual effects graduates from VanArts the opportunity to transfer up to 52 credits towards a Bachelor of Science Degree (in Computer Animation or Game Art) at Full Sail, completing their degree in as few as18 months of study. VanArts graduates in web development can transfer up to 46 credits towards a Bachelors in Web Design & Development completing in as little as 13 months.
Benefits of This Pathway Include:
Complete your Bachelor's in 13-18 months after receiving your VanArts diploma
Project Launchbox provides you with a MacBook Pro and key industry software
Graduates from Full Sail have worked on titles such as Gravity, Frozen, Harry Potter and the Deathly Hallows, Guardians of the Galaxy and many more, as well as web projects for companies such as Conde Nast and LinkedIn.
Professional advisory board gives industry feedback to curriculum, keeping it on pace with the industry
Located in the Orlando area, a technology and entertainment hub that is home to EA, Disney, Universal Studios, coupled with Vancouver which is home to Industrial Light & Magic, Digital Domain, Sony Pictures Imageworks and many more.
O.P.T (Optional Practical Training) program: extension of student visa allows you to work/intern in the USA and earn revenue for up to 12 months.
CONTACT US TODAY for more information on this pathway to a diploma + degree and into the industry!