Program Duration
12 weeks
Next Start Dates
January 30, 2017
Prerequisites: Basic to Advanced drawing skills
What You'll Learn
Course Info
In this course, students will be guided through the various stages of creating a four-page comic, including: script writing, character design, thumbnailing, penciling, inking, page structure, panel composition, and storytelling. Students will be using Adobe Photoshop to add lettering and greytones to their artwork, and explore how to develop a plan for pursuing their personal aspirations within the medium of comics.
Students in this course should have strong drawing skills, and you should budget approximately $50 for art supplies.
Here is a comic drawn by our instructor Steve Rolston about his course: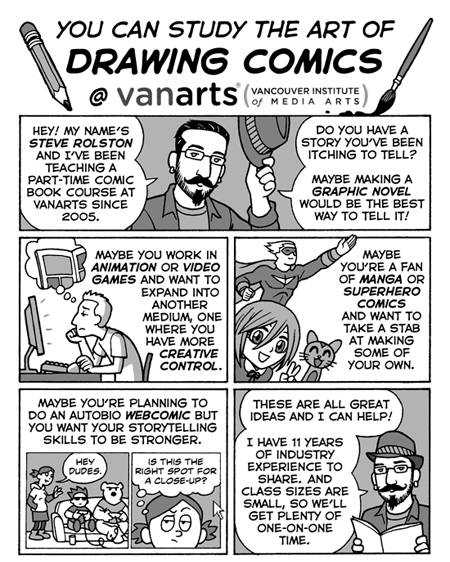 Schedule: Monday evenings, 7:00pm – 10:00pm

About the Instructor
About
Steve Rolston
Instructor
Steve Rolston was trained in classical animation at Capilano College and spent some time drawing storyboards at AKA Cartoon and Barking Bullfrog Cartoon Company. He made his first big splash in comic books by illustrating the debut story arc of Queen & Country, which won theEisner Award for Best New Series and earned Steve several other nominations including Most Promising Newcomer. Other comic credits include One Bad Day, Pounded, Mek, Emiko Superstar, Degrassi: The Next Generation, & The Escapists.  You can learn more about his work at: www.steverolston.com
Tuition
International
$595.00 CAD
Additional Information
Students should budget approximately $50 for art supplies.
International Students
Please note that letters of acceptance are not issued for part-time courses, that the course may be cancelled if student enrolment is low, and that we advise any international students signing up for part-time courses to only do so if they are currently residing in Vancouver or if this course is not their sole purpose for visiting.