For students who graduate with a diploma in 2D or 3D Character Animation from VanArts, a degree pathway option is available through RMIT University in Melbourne, Australia.
VanArts animation grads can earn up to 96 credit points (or one year of credit) in advanced standing entry into RMIT's Bachelor of Design (Animation and Interactive Media), completing their degree in two years of study.
Benefits of this degree pathway include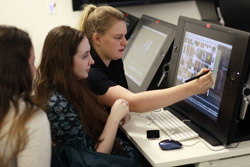 studying at RMIT's Melbourne City campus in the urban heart of the world's most liveable city
one of the top animation programs in Victoria, where you can specialize in: animation (2D3D), motion graphics, special effects and interactive media.
students and staff enjoy wide national and international acknowledgement and exhibit in festivals & conferences such as SIGGRAPH, MIAF, LIAF, MILIA and Annecy, plus work placements at places likeLucasArts, Viska Toons and Iloura.
Contact Us at VanArts for more details on this unique degree pathway opportunity for global study in Canada and Australia!